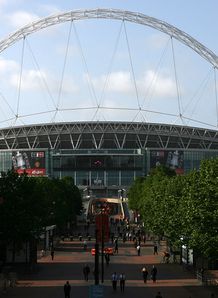 That's all we have time for from Wembley. Southampton are the clear victors but Carlisle will be kicking themselves as three of the four goals were courtesy of individual errors. Take nothing away from the Saints though, they've wrapped this cup up in style.
Musungu in Rwanda can't help himself, he's off out to celebrate the Saints' Johnsons Paint Trophy success, regardless of the meetings he has in work tomorrow. He's asking for a big shout out to Wembley spectators Simon and Owen who will no doubt be as jubilant as he is.
90+4 And there is the final whistle and Alan Pardew, wearing a suit blazer over his match-day tracksuit, punches the air and runs onto the pitch to celebrate with his players.
90+3 Davis has a goal-kick and this could be the final act of the match!
90+2 Saints fan David Parker is reading in Bulgaria, but is delighted to see Southampton winning in style in front of his wife Sharon and son Darren, who are at Wembley today.